Hong Kong chef May Chow opens new Little Bao restaurant with more menu items and a much bigger space
Chow, who won a best Asia female chef award last year, has added several tasty new items to the Causeway Bay branch's menu including fried chicken, shrimp tacos and seaweed poppers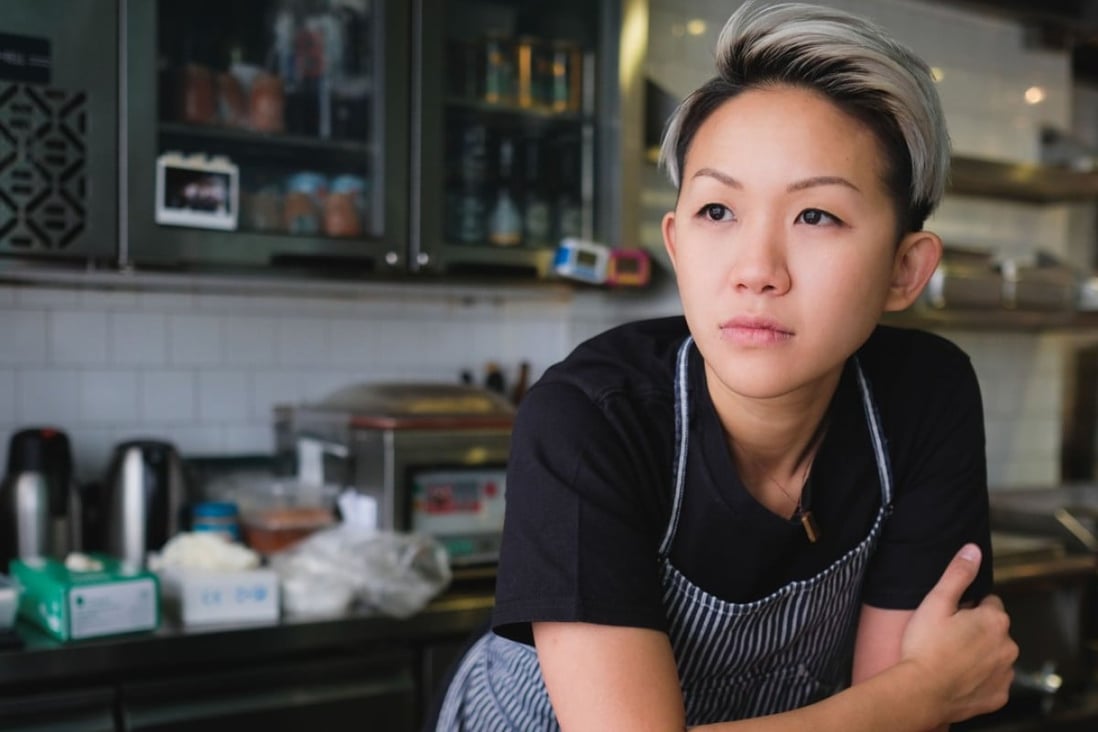 Chef May Chow, who has opened Little Bao Diner in Fashion Walk in Causeway Bay, was awarded last year for her constant experimentation with new ways of honouring traditional Chinese flavours and techniques. (Photo: Little Bao)
Self-taught Hong Kong chef May Chow made a name for herself in 2013 when she opened Little Bao, a tiny restaurant known for its "Chinese burgers": halved steam buns with funky, flavourful fillings.
The restaurant on Staunton Street in Central district's SoHo area quickly became popular for its pork belly bao and desserts of either green tea or salted caramel ice cream sandwiched between deep-fried buns. There are constant queues outside the small space, into which only 20 diners can squeeze at a time.
Chow's constant experimentation with new ways of honouring traditional Chinese flavours and techniques saw her named Best Female Chef 2017 by Asia's 50 Best Restaurants.
She opened a funky take on a Chinese diner, Happy Paradise, in SoHo in 2017. And now Little Bao has expanded, with a new branch in Fashion Walk, in the busy Causeway Bay shopping district, that will officially open on September 26.
Called Little Bao Diner, the bright and airy space – just across from Victoria Park – is quite a contrast to the small, cramped original in SoHo, sitting almost five times as many people. The vibe here is relaxed – Chow welcomes families, and dog owners, to come and hang out, and there is a no-reservations policy.


The menu is bigger too – as well as the original items from Little Bao in Central, there are new dishes that are good for sharing which we tried at a recent media tasting.
We enjoyed the mushroom salad (HK$88), which consists of three types of fungi, Japanese mustard greens and cherry tomatoes, dressed with white soy sauce and white vinaigrette dressing. Another light starter, scallop and chips (HK$118), featured diced scallop, pickled fennel and cilantro combined in a ceviche accompanied by light, crispy-fried dumpling skins.


We also liked the seaweed poppers (HK$68), cuttlefish balls covered in seaweed and dipped in a black garlic sauce. The shrimp tacos (HK$128) are inspired by ones Chow ate in Los Angeles. Here they are deep-fried and come with a large prawn, with guacamole and pineapple salsa on top.


The fried chicken (HK$178) is a highlight. Chow says she only uses fresh local yellow chickens. The dish has a subtle, spicy mala kick. For those who can take the heat, there is another version seasoned with chilli oil and peanut butter for an inspired dan dan mian taste.


The famous bao are still here: pork belly bao (HK$78) and Impossible bao (HK$98), which has a plant-based patty cooked medium and served with a delicious lemon kombu coleslaw. The fried chicken bao (HK$78) is outstanding because of the fresh chicken used.
For desserts, the same two choices are available as in Central – deep-fried green tea or salted caramel ice cream sandwiches. They're so good.


Read the original article here.


Reserve a table today !
Little Bao Diner – Central (SoHo)
Hours : Tue-Thu, Sun: 12-4pm, 6-10pm | Fri-Sat: 12-4pm, 6-11pm
Little Bao Diner – Causeway Bay (Fashion Walk)